Bomb Bomb Bomb…..Bomb Bomba Bomb! When I was thinking of how I was going to barf out this blog post all I was thinking about was the scene in Meet The Fockers when Ben Stiller is on the airplane and flips out about having to check his luggage!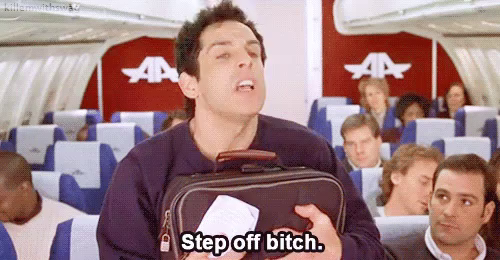 SUCH a great movie! Anywho! I got my CT scan results yesterday! ALL CLEAR! Thank goodness! I had my CT scan last Tuesday and waiting 10 days for the results was just about the most excruciating experience of my life! UGH! Good lord! But they were all good…..minus the fractured L1 vertebrae that was discovered – WTF!
I was in a really strange funk in the weeks leading up to the results. Expecting the worst, but hoping for the best. I've mentioned this in previous posts, but when you get cancer you make cancer friends. Lots of them. And when you have cancer friends, they don't all get great news. They get sick again, or become resistant to treatment. And i've had a couple people whom I REALLY just love to bits get some real shitty news the past few months. And I don't really know if it's that is the main culprit or the fact that i've got this 24 month ticking time BOMB in my brain that I just can't drown out. I've got 16 more months until i'm "danger zone" free-ish and my chances of relapse drastically decrease. OH! And I also get to give Felicia Volder-port her eviction notice, too! But in the days and weeks leading up to my scan i'd have a lot of my friends ask for an update on how I was feeling and when was my next appt. Yadda Yadda Yadda…. and every time you get the response of "oh, well you are just doing SO well i'm sure everything will be just fine." And I speak for ALL of my friends who have had cancer….especially blood cancers you want to call all of those people F****** Num Skulls and tell them to zip their face. Because it's extremely rare to have symptoms when you have blood cancer. So it could pop back up unannounced AT ANY SECOND! WITH NO SYMPTOMS! But then you get snapped back to reality and realize that they are just trying to be kind….and then you promptly feel like an asshole for thinking that way. But oh well!
So, that brings me to present day. Actually not today….yesterday. The very friggin' second I got into the car to drive to Lubbock the nerves and feelings of dread started. Thankfully Zach was the DJ and we were lip syncing to some old school rap music to distract me. We arrived in the parking lot and I swear to God it took every fiber of my being to even walk in that damn building! Do I go in? Do I stay here? What happens if we just go back home?Do I want the results? Do I not want the results? What happens if the news is bad? What do we do next?
Kahuna rolls in, eyes closed (per usual) and immediately says "I can tell you are stressed!! What is wrong with you? Why are you so worried??" (which is unbelievable because the guy literally walks around most of the time with his eyes almost shut) I was like, listen man…. have YOU ever had cancer? We ended the visit with him telling me that the highlights in my now brown very thick hair (thanks chemo!) looked as though "I've been kissed by an Angel" to which I promptly let out a very loud snorty laugh. Do you even know me, Bro? So anyway…. the results were good! But it's hard to celebrate knowing i'm back on the hamster wheel and the 120 day countdown starts all over again. Talk about Groundhog Day of the worst kind! But none the less we celebrated! And by celebrated I mean we went to breakfast in the big city, went to Target AND DSW and I bought nothing (that never happens), did a little grocery shopping, I fell asleep in the car, and slept on the couch the rest of the day. There was very short sleeps had by me this week so I was wiped.